Here at 1st Choice Stairlifts we offer removal, refit and buyback options. We understand that often when a lift is removed, your needs must be treated in a sensitive manner. We do all we can to accommodate your needs in an empathetic way.
What happens when my household no longer needs a stairlift?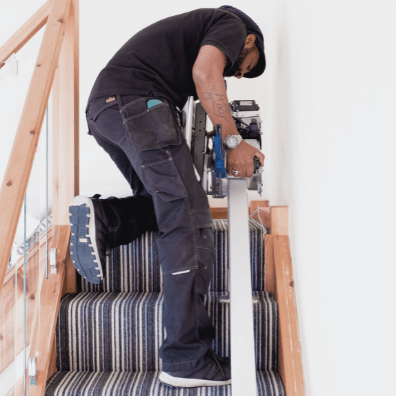 Depending on the model, age and condition of the unwanted stairlift and our current stock holding, we may:
charge you to remove it
remove it for free and take it away or
offer to buy your stairlift and pay you for it. We may buy back a lift even if we weren't the original installers.
When you need to have a lift removed, it is your legal responsibility to have it disposed of correctly. If you employ someone to do this for you, they should legally have a Waste Carrier Licence to dispose of your model in the right way. You must ensure that your product is not fly tipped as this is a criminal offence.
Removals are carried out by our fully qualified engineers and we are registered waste carriers. Having a stairlift removed normally takes a trained engineer around an hour to dismantle and take away.
We don't like waste and take our environmental obligations seriously. Where we can, we refurbish newer models and reuse them for rental or reconditioned models. We may be able to use the lift for parts too. Anything that we cannot reuse is stripped down to its component parts and recycled accordingly. Read more about stairlift parts here.
Sometimes we are asked if there be any marks on the carpet after the removal as the rail brackets are screwed into the stair treads. Normally, the pile of the carpet will disguise where the rail used to be and a good vacuum of the area will pick the pile of the carpet up.
Can I remove a stairlift myself?
If you're not a trained engineer, you won't know how the model comes apart. Lifting a whole model out yourself or with several people helping is back-breaking work. The average complete stairlift weighs around 50-100kgs which is roughly 7-15 stone and weighs even more if you have a curved model! If you do remove a lift yourself you will have an obligation to make sure it is disposed of correctly, so getting a trained engineer from a company with a registered Waste Carrier Licence to remove a lift is your best option.
Can I sell my unwanted stairlift?
You may be able to sell your model when you no longer need it, although the price you get for it won't be near what you initially paid. If your model is up to a few years old, you could normally expect to get a few hundred pounds for it. 
Whilst it is easier to reuse a straight model, curved models have expensive made-to-measure rails that normally can't be reused. In these cases, only the chair and carriage parts may be able to be used again.
We buy second hand stairlifts depending on how much stock we have at the time; we normally buy models from newly installed up to 3 years old. More information can be found here about stairlift pricing here and what factors may effect the overall cost or new and reconditioned stairlifts.
We refurbish used models to resell as reconditioned stairlifts and rental stairlifts. When we resell these lifts, they go through a very rigorous process of reconditioning, testing and safety-checking which is labour intensive. The price that we may offer for your lift will be reflected in the on-cost resale value.
If you are thinking of selling your model to us, please give us a call to discuss how much we would pay for it. We'd need to know the model and how old it is. Call our aftercare department on 01249 814528
We are particularly interested in curved Oto Air and Flow models, as well as HomeGlide, Brooks/Acorn and Handicare straight models that are still on the stairs so we can check they are working and dismantle them ourselves. We may also be interested in other models so please give us a call.
If you are wondering whether you can sell your lift yourself privately, it is certainly possible. We have a few words of caution and some top tips for you:
Straight models can be reused more easily but what is 13 steps in one house may be a different measurement of 13 steps in another house. The rail can be made shorter, but you would need to know how to calculate the exact measurement needed and have the tools to cut it too.
Most models are "handed" to go up the left or right-hand side of the stairs. You can re-hand the lift, but this should only a job for a trained engineer. It will take hours to do as it involves rerouting safety circuits and can be dangerous to the new user if it is not done correctly.
If you're getting rid of a curve model, the rail won't fit anywhere else unless it's a house exactly the same in your street.
A straight stairlift shouldn't go on a curved flight of stairs and a curved model won't go on a straight.
The best and quickest way to get rid of a stairlift that you no longer want is to speak to a reputable stairlift company to remove it for you.
Stairlift Removal and Refit:
Will I need my stairlift removing to fit a new carpet?
Are you thinking of changing the carpet on your stairs? If you've got a stairlift on your stairs and you want to renew your carpet, then your lift will need to be removed for the carpet fitters and then reinstalled once complete.
To cause the least inconvenience possible, normally we will arrive first thing in the morning to remove the lift and store it in perhaps a spare room or outbuilding, then the carpet fitters can install the carpet. We will then return later in the day to reinstall it. If we didn't originally install your lift or we find that it hasn't been serviced for some time, we may need to do additional work and safety checks to make sure it is reinstalled to standard.
It can cost several hundred pounds to have a removal and reinstallation so please bear this extra cost in mind if you are changing your carpet.
Please be aware, we have come across instances where family members or carpet fitters have carried out the removal and put the lift back in in a dangerous and unsafe condition. Your safety is our priority so please don't compromise and make sure you have a qualified professional doing this job for you.
Moving house and refitting your lift
We are often able to carry out stairlift removals and refit it into another property. This will depend on the model of lift and the measurements of the old versus the new staircase. We may need a new rail or other parts to make it safely fit your new home. Sometimes the new stairs aren't suitable due to curves and corners in the staircase, or the width and available space. If so, we may be able to part-exchange your lift, depending on its age and condition, and then give you a discounted rate on a new one.
Please get in touch for more specific advice about stairlift removals.
What happens when I no longer need a homelift or through-the-floor wheelchair lift?
Depending on the age and model of the product we may buy it from you if we can reuse it or, we may charge you to remove it. We specialise in the Stiltz and Wessex range of products and would only be interested in removing or buying these particular brands.
If we were to buy your homelift then we would need to see it in situ and in working order, our engineers could then remove it for you. You could expect to get several hundreds of pounds, perhaps up to a couple of thousand pounds depending on the age and condition. We normally wouldn't purchase any back that are more than 3 years old. It also depends on our current stock holding too, if we have the capacity to store it.
As with stairlift removals, we wouldn't recommend that you remove it yourself and you should get in a licenced waste carrier to remove and take the model away for you.
Of course, when this model is removed there will be a hole in the ceiling that will need building work done to it to cover it up. This will mean adding in new joists, new floor and ceiling with plasterboard and painting and reinstating the floorboards. This is a job that we can organise to be done through our network of subcontracted builders at an additional cost.
Contact us
For more information on homelift buybacks or removal costs, please contact our aftercare department on 01249 814528 to discuss your requirements.