Stairlifts are designed to give you years of reliable service. However, as with any electrical/mechanical equipment, it is possible that faults may occur and you could find yourself in need of an engineer.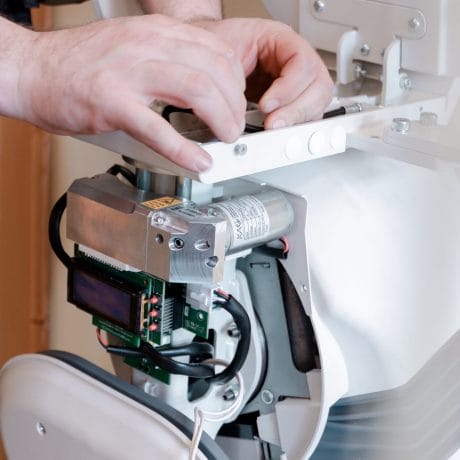 Quick, Round-the-Clock Repairs
We understand how important stairlifts are to independent living therefore, we prioritise repairs to make sure we get your lift working quickly. For emergency repairs, we would get to you the same day, often within a few hours of receiving the call (our record is getting an engineer to the front door before the customer hung up on the phone!). Non-urgent routine repairs can usually be completed the same day, or within 24 hours.
We offer comprehensive repairs including emergency call-outs, covering you 24/7, 365 days a year for complete peace of mind.
Stairlift Repairs Near Me – Qualified, Local Engineers
When you have a problem, you want it resolved quickly. Our engineers are highly experienced and qualified. They can repair over 50 different makes and models dating back over the last 20+ years! We invest in our engineers to make sure they have the most up-to-date manufacturers' technical training. This means they have the skills and knowledge to fix your lift quickly and efficiently.
Stair Lifts Spare Parts Stock
Our engineers carry a vast selection of the most-used spare parts for most manufacturers' products in their vans.
We also have a back up of over 6000 parts and components stocked in our warehouse. On the very rare occasion that we don't have the parts in stock for your stairlift model, we can source is from the manufacturer and return to fit it for you. Every part for a lift is logged on our bespoke computer software system so that we can locate it in an instant. Check out our stairlift parts page for more information
Warranty repairs
If you purchased your lift from us, it comes with repair cover included under the warranty. Outside of this warranty period you can choose to take out a stairlift Service Agreement or pay for one off repairs whenever you need us.
Fixing lifts that we didn't install
Have you been let down or abandoned by your original installer? Don't worry, we're happy to help you get your lift up and running again. As long as your lift was professionally installed, we can repair it, even if it wasn't us who originally carried out the install. Just give us a call to see how we can help.
Contact us
Between the hours of 8.30am-5pm, Monday to Friday (excluding bank holidays) you can contact the office on 01249 814528. Outside of these hours (including weekends and bank holidays) you can contact our engineers directly on 01249 479110.
For non-urgent repairs, to book a stairlift service or for any related queries, you can email us on [email protected].
Stairlift Companies Near Me – Our coverage area
We cover all of Wiltshire, Bath, Bristol and Swindon as well as parts of Dorset, Somerset, Gloucestershire, Oxfordshire, Hampshire and Berkshire. For a full map of our coverage areas please click here. Our repair service includes both straight and curved stairlifts, as well as some models of home and wheelchair lifts.
Upgrading your lift
If your model is beyond repair or is over 10 years old, you might want to consider upgrading it. You can see the wide range of products we offer on our dedicated pages:
To chat about an upgrade, contacts our sales team on 01249 814528 for a no-obligation quote.