Estimated reading time: 16 minutes
Contents: click to read more
How Much Is A Stair lift?
If you would like to have a stairlift installed, then you'll want to know about stair lift prices and the cost of a stairlift over time.
A Which Review in May 2021 found that the average cost of a new stairlift is £2,845 and £4,217 for straight and curved lifts, respectively. However, Which mostly surveyed people who had bought from well-known brands that are often seen advertising in newspapers and on TV.
You may find that if you buy from an independent stairlift companies, such as ourselves, you could pay less to have one installed. Here is a guide of our starting prices.
Straight Stairlift Prices
Straight Stair lifts New prices from = £1650
Curved Stairlifts Prices
Curved Stairlifts New prices from = £4000
Second Hand Stairlift Cost
Reconditioned Straight Stair lifts prices from = £1000
Reconditioned Curved Stair lifts prices from = £2800
Stairlift Hire Cost
Rental Straight Stairlifts prices from = £350 initial payment + £50 per month onwards
Rental Curved Stairlifts prices from = £1800 initial payment + £75 per month onwards
We say "stairlift prices from" because there are a lot of variables when pricing an installation. Let's explain these in some detail for you, before giving you unmissable money-saving tips.
Why are stair lifts so expensive?
Stairlifts are normally tailored to fit your stairs and your needs. For example, with curved models, they will be bespoke and made to measure to your stairs. Compared to the cost of moving home or going into a sheltered or care home, lifts can be a cost-effective solution to staying independent in the home you love. To get an accurate stair lift cost tailored around the installation requirements of your home, a survey will need to be carried out. As a guide factors that may affect the price of stairlifts and overall cost include:
the configuration of your stairs (for a curved staircase – how many curved bends you have)
which type of stairlift will fit on your stairs, particularly if it is narrow
the features needed to use it with ease
pre-installation work – such as fitting a PowerPoint
who you buy from, the service they offer, and what warranty is included
Don't forget that when purchasing a stairlift, prices include: paying for the product, the installation, the warranty (which should include stairlift parts), callout repairs and often an annual service.  Installations normally take around 3 – 4 hours; the costs may be more if you have particularly complicated curved stairs or multiple flights that takes longer to install.  Let's explain in more detail what factors will influence the stairlift price.
Factor 1 – the shape of your stairs
If you have a straight staircase with no twists and turns in it then your stairs will be the cheapest to purchase a model for. Most straight mode ls are stock items, and the rail is cut to size. This means that installations can be quicker where the order to installation date is often just a few days.
Why are curved stairlifts more expensive?
Curved stairs are a bit more tricky as the rail is made specifically for your stairs by the manufacturer. Because of this curved stairlift models are significantly more expensive and are often double the price of a straight model. There's more advanced engineering in the workings of a curved model too that increases the cost. Curved models can also vary in price due to the number of bends on your stairs. This affects the number of turns the lift has to do. It often costs an extra few hundred pounds per bend. Stairlift costs also depend on how far the rail has to travel; if you wanted the lift to go up multiple flights, for example in a townhouse, extra rail would need to be made.
If you have spiral stairs, non-standard bends will need to be made for your stairs as a bespoke solution.
Can You Have a Straight Stairlift on Curved Stairs?
We are sometimes asked can a straight stairlift fit on curved stairs. There are only two circumstances in which would we consider this safe. If you have a straight staircase with a flat landing and one step to the right or left (that classes a curve); it may be possible to build a new step to fill the landing in. This would create a flight that is in line with the other steps. This way you can have a straight model and save on cost.
If you have a flight of stairs that is split in the middle with a flat landing, which turns back on itself, it may be possible to install two straight models (for example, a set of 7 steps, a half landing turning 180 degrees, then another 7 steps up the other side). This may be cheaper than buying a curved model. However, it is vital that the user has the mobility to transfer from one stairlift to the other, and the space to do this safely. If you have fan-shaped stairs or quarter landings, we are unable to install a straight lift. You would need to have a curved one fitted. This is because it would be dangerous for you to get on and off the chair.
Factor 2 – What model will fit
There are 8 stairlift manufacturing companies with bases here in the UK. Therefore, there's a good choice of models available. Only 3 out of these 8 manufacturers sell directly to customers as well as dealers. By using an independent stairlift retailer you won't be missing out on some fantastic, and often better, products.
You will find that some stairlift models will suit better than others. For example, how comfy the seat is, how it fits your seat height and how you can work it. By doing research and perhaps trying out a model, you'll be able to see which model will suit you best. Most retailers have a showroom demonstration area where you can try before you buy. We have a showroom at our offices in Calne, Wiltshire. Here you can make an appointment to visit and try them out in person. Much like the price differences between cars, there are differences in stairlift prices. Models that have more advanced technology built into them and have more styling in the chairs will cost more.
Factor 3 – What features are needed
The prices mentioned at the beginning of this article were for basic models. There are various options, or upgrades if you like, that can affect cost.
Normally upgraded options would be identified if you needed them to operate the lift effectively. For example, a basic model comes with a manual swivel seat with levers at the side of the chair. To operate this, you press down the levers and use your feet to swing the chair much like an office chair. Dexterity impairment, shoulder pain, or weakness in legs, may affect ability to turn the seat manually. In this case, powered swivel options are available. The chair turns automatically when you get to the top of the stairs. Other powered options may include: powered folding footplate and a powered hinge rail. A hinge rail is suitable for those with a doorway or open hallway at the bottom of the stairs. All stairlift models have particular weight limits which might affect which model you need and the cost.
Factor 4 – What work is needed
Your lift will need a PowerPoint nearby. Although all lifts are battery operated, they need to be charged up and continuously connected to the mains. This is done via a spur socket or a 3 pin plug socket, usually situated at the top of the stairs. You may have a radiator at the bottom of the stairs, which could be in the way of where the chair will park. In which case, it would need to be replaced with a smaller one. Normally, a lift company should have contractors to do this kind of work for you. Meaning that you wont have the hassle of having to organise it yourself. If this is included, it would be itemised on the quote.
Factor 5 – Who you buy from and the service they offer
Be sure to check what kind of aftercare service a company can offer included in their quote. Some companies offer 24/7, 365 days a year emergency repairs like ourselves, and some don't. It's important to have an aftercare service that you can rely on; where a problem can be fixed the same day rather than waiting days or weeks for a repair. If you are looking a reputable company to install a lift, look for a British Healthcare Trades Association or Which Trusted Trader Member. Be careful buying second-hand from the likes of selling sites.
5 Unmissable Money Saving Tips
How can I save money on buying a stairlift?
There are many ways you can save money when it comes to buying a stairlift. Here are our Top Tips:
Where can I buy a stairlift and how do I choose?
As a managing director of a stairlift company, I may be a little biased here. However, having worked for manufacturers and then setting up an independent company, I truly believe independent dealers are the best to buy from. Not only do they normally offer a good choice of models, they also arguably offer a better local service. This is providing you choose the right company. Often, the right company can give you a more personalised service too. Don't just take my word for it; in a recent Which survey, independent dealers were better than the manufacturers, based on value and service!
Buying from a supplier that can offer a range of models may help you to save money. Independent dealers are more likely to offer reconditioned and rental models; which can make prices significantly cheaper than buying new. Our models for straight stairs range from £1650 for new, reconditioned from £995, and rentals from £350 + £50 per month ongoing rental for as long as it is installed. Reputable dealers are often recognised trade members of Which Trusted Traders or the British Healthcare Trades Association.
You can also contact your local Adult Social Care team or a nearby Independent Living centre for a list of council-approved suppliers. You might be tempted by the low prices or to DIY a stairlift installation but don't!
VAT Exemption On Stairlifts
You will be tax-exempt and won't need to pay VAT on a lift provided you qualify for "zero-rating". This means there is zero VAT added to the cost of a product if:
you have a long-term disabling health condition that isn't going to get better e.g. arthritis, Parkinson's, Multiple Sclerosis, COPD, etc. A temporary disability like a broken leg won't qualify.
You live in a domestic property and you are using the product, not in a block of flats where there are multiple users.
It is for your use and you are not a business.
If you are a qualifying charity.
If you are of 'old age' and don't have a specific health condition, this would not qualify for zero-rating; it would however, attract a 5% reduced rate VAT. If you are a business or are installing for multiple users, you will pay the current VAT rate of 20%. For more information, you can check out the HMRC website or ask your supplier. To claim the zero-rating, your supplier will give you a self-declaration form to fill in with your full name and address and health condition. This needs to be completed and given back to the supplier – and that's it.
Can I get a free stairlift or funding from the NHS?
If you need help with costs and paying for a model, contact your Adult Social Care Services at your local council. There are also Disabled Facilities Grants available that will pay for a lift. These grants are means-tested so you'd need to check to see if you would qualify for one. You will also be asked for proof of income/savings so be prepared to disclose your financial information to the council.
Normally your needs would be assessed by an Occupational Therapist, you would then be placed on a waiting list ordered by priority. Before the pandemic, the waiting time for a grant to be approved would usually be between 6 and 18 months. Covid-19 has not only created more need for accessibility adaptations but there is also a backlog of applicants, therefore there is heftier waiting list than there was before 2020.
The Bureau of Investigate Journalism in 2022 found that the waiting list is far longer than the government rules of 18 months; it is taking longer than usual before people are seen by an Occupational Therapist before they can even submit their application. Some councils have even reported an average wait time of 2 to 3 years. We recommend checking the wait times with your local authority. Based on these wait time you may consider waiting for a grant approval or, in order to avoid any wait times, you could purchase or rent a model privately.
What are the lifetime costs of owning a stairlift?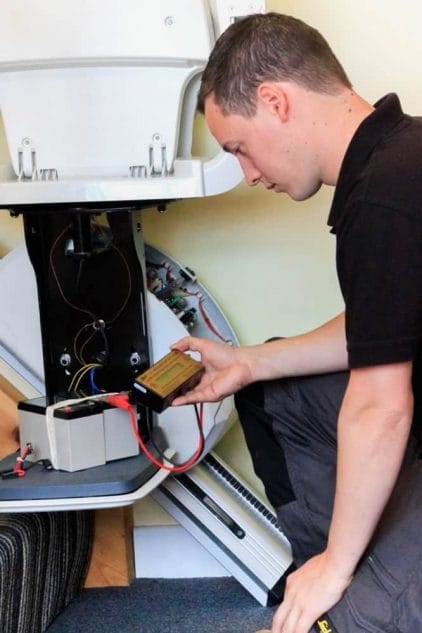 There are several things you need to consider when buying a model including:
Maintenance
Servicing
Insurance
Electricity costs
It will cost you money on an ongoing basis to own one of these products. Just like when you buy a car, you will need to get it maintained and serviced. Many suppliers have Service and Maintenance agreements extending your warranty, that will cover you for a mixture of:
Callouts in and out of office hours, weekends and bank holidays
Parts
An annual service
Although these products are generally reliable, they are a mechanical/electrical piece of equipment and faults may occur. If you don't have a service and maintenance agreement in place and are out of warranty, you would be charged for callouts and parts if needed. They will cover you for manufacturing defects but not if it has stopped due to misuse or accidental damage. Having this agreement in place can save you money and protects you from unexpected costs. According to the Which survey, two-thirds of owners thought that having a service and maintenance agreement represented good value for money. Prices for these agreements can vary from around £500 to £1500. Therefore, it's important to make sure you know what the prices are before committing to which product you want installed.
Stairlift Spare Parts
Some manufacturers restrict the resale of spare parts to independent dealers. In this case you may be stuck with paying a higher maintenance cost for the in the longer term. You also need to factor in that every 3 or so years, depending on usage, there are 2 batteries inside the carriage that will need replacing, as they lose charge over time. You should use your product daily to keep the charge topped up in the batteries. Don't switch off your electricity/power to the product as this will result in flat batteries.
Replacing batteries is a take that needs to be carried out by an engineer. It is not normally covered under a warranty as this is a "wear and tear" item. Also, there are normal household-style batteries in the remote/wall controls. These also wouldn't be covered but can be changed by yourself. Lifts need to be serviced once a year for safety reasons. You can find more about servicing here. A Which Survey indicated that the average cost of repairs was around £224 and servicing £211. However, prices will vary dependent upon suppliers and models.
Do I need to insure my stairlift?
An extended warranty/service and maintenance agreement will cover you for most callouts, parts, and servicing. It won't however, cover any accidental damage. Nor will it cover you if you have a flood or fire/smoke damage. You will need to cover your product on your normal household insurance. Check out the value of your product and find out if you would need to list this as a separate item on your insurance. In our experience it is very rare for us to have to replace a lift as a result of a flood or fire. It does occasionally happen, so please bear this in mind and make sure you are covered.
How much does it cost to run a stairlift?
One cost that people often worry about is the price of electricity and how much it affects an electric bill. Stairlifts have to be wired into the mains and permanently switched on. The price is likely to be just a few pounds a year so nothing to be overly concerned about.
Who will buy my stairlift when I no longer need it?
When a stair lift is not needed in the future you may be wondering how to have it removed or sold. An original installer might be interested in buying it from you or an independent dealer. Many people think they could sell it on and get back near enough what they paid for it. However, this is never the case.
Stairlift Buy Back
Depending on the age, model, and condition you could expect to have a buyback of around 10-15% of the original price you paid. And then less again if it is a few years old. As curved rails are tailor-made for the stairs, there is usually no value in bespoke rails other than scrap. Why is that? Essentially the product has lost value by being installed and is second-hand, regardless of how many times it may or may not have been used. The company offering the buyback will need to send an engineer to uninstall it for you. If it is to be reused it has to be thoroughly refurbished, tested and safety checked before it can be resold, which takes hours in a workshop. If a company is not able to offer a buyback it may charge to remove the product. This will include the engineer's visit to uninstall it.
Engineers will need a registered waste carrier license to remove, transport, and dispose of it in an environmentally friendly way. You may consider selling your model privately via eBay, Facebook or Gumtree, or other selling sites. However, this can prove more difficult and is not advised due to the safety aspects of these products.
Any Questions?
In summary, there is a lot to consider regarding cost when it comes to buying a stair lift. You will need to consider it as an investment in your future. It is something that will make such a massive difference to quality of life. Most of our customers tell us they wish they had their stair lift fitted sooner. So our 5 top unmissable tips are:
Get a few quotes. Make sure one of them is from dealer in order to be offered more choice and perhaps value for money.
Consider new, reconditioned, and rental models if that suits your budget better.
You won't pay VAT if you qualify
You may get a lift for free through a Disabled Facilities Grant. This may be viable option if you are prepared to wait and your need is not too urgent.
Check out what is included in the existing warranty. Regarding maintenance and servicing and what are the aftercare costs, service, and response times to do urgent repairs.
To discuss stairlift prices more and get a better idea of how much one would cost, please do get in touch with our team for a friendly chat – call 0800 019 22 10. https://www.which.co.uk/reviews/stairlifts/article/how-to-buy-the-best-stairlift/buying-and-installing-a-stairlift-aaH7a1c14jQ0