Stairlifts in Swindon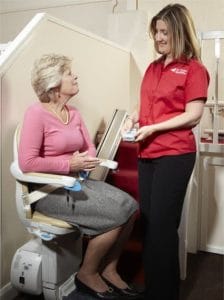 Based just outside Swindon, 1st Choice Stairlifts is a local company who supply, install, service and maintain quality straight and curved stairlifts from a wide range of manufacturers, including bariatric models.
We also supply a range of wheelchair lifts and home lifts in Swindon and the surrounding area at prices you can afford. With 40 years experience, no wonder we're first choice!
Try Before you Buy
We have the widest range of stairlifts Swindon has to offer!  They can be tried out in our showroom. This is a fantastic way for our clients to see the quality of the products and compare them side by side prior to making a decision. We believe we are the only company west of London with 8 different demonstration stairlifts, a wheelchair lift and home lift all in one location, ready and waiting for our customers to try.
We're dedicated to helping our customers to choose the very best model for their specific needs and within the constraints of the layout of their property. We only supply the highest quality stair lifts, through floor lifts and wheelchair lifts from a range of market leading manufacturers. We stock many popular models including Flow 2, Platinum, Stiltz, Brooks and HomeGlide.
"We knew that they were recommending the best solution for our problem. It's given us our life back." – Mr Sullivan, Marlborough
When you buy any new mobility aid from 1st Choice, a 2 year warranty is included, this covers call-outs and parts, subject to our warranty conditions, so you have no additional costs to consider. More information about stair lift prices.
Rentals and Reconditioned Models
In addition to brand new models, we also provide high quality reconditioned stairlifts. If you are interested in a reconditioned model, why not contact us to find out what we currently have in stock and see how much you could save.
We also supply rental stairlifts, these are ideal for people who have perhaps just come out of hospital and know they will only need one for a limited time.
Our 1Care maintenance contracts ensure it is maintained by a team of highly qualified, local engineers, who are there to keep it in prime working condition. Because we are so close to Swindon, we can usually have an engineer out to you within a matter of hours.
"The positive way and speed he worked is an advertisement in itself, it was nice to meet him." – Mrs Edge, Calne
All installations start off with our no obligation staircase survey. Simply call us on 08000 19 22 10 to speak to one of our experienced advisors and book a suitable date and time. Our surveys usually take between 30 minutes and 1 hour and then we will be in a position to suggest the most suitable models.
You can get directions to our Wiltshire showroom here.
If you live in the Swindon area and are considering renting or buying a stairlift, wheelchair or home lift, or if you require maintenance and servicing please do get in touch.