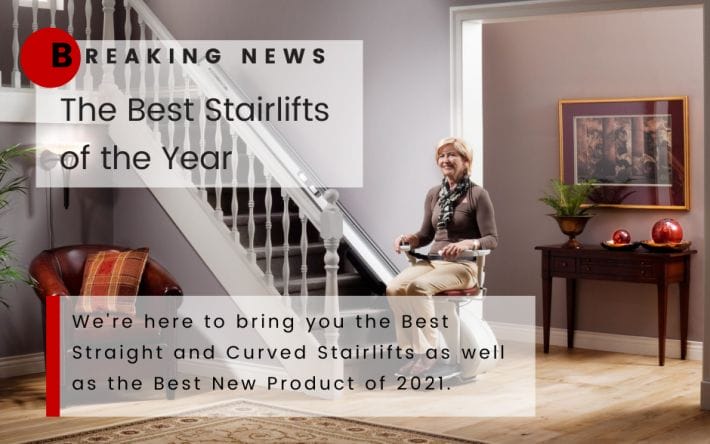 Here it is, our Best Stairlifts of the Year! We're looking at the best straight and curved stairlifts of 2021 as well as the best new product of the year.
In 2021 we installed almost 500 stairlifts and home lifts across Wiltshire, Bath and North East Somerset, Bristol, Swindon, Berkshire, Hampshire, Gloucestershire, Oxfordshire and Dorset. As an independent dealer, we can give you an unbiased and impartial look into the best products that we come across. Installing them in hundreds of homes every year means that we see how each model suits the needs of our customers individual needs. Through our aftercare we can also see the ways in which a lift has improved the lives of so many people, keeping them in the home they love for as long as possible.
Best Straight Stairlift
The best straight stairlift of 2021 for 1st Choice Stairlifts is Access's Homeglide Extra! This is an easy to use and reliable product that is popular among both our customers and engineers. We love this product so much, that we order it in bulk and always have it in stock. This means it has a quick turnaround from our warehouse to your home. This straight lift is popular with our engineers because installations often take just a couple of hours to complete.
The Homeglide Extra can be customised to suit each individual customer. It has an optional powered swivel for upper floor dismounting and is perfect for those who may struggle with a manual lever swivel. This lift also has an ergonomic, interchangeable navigation; armrests are fitted with either a joystick or rocker switch in order to suit those who are dexterity impaired. The Extra has a standard weight capacity of 146kg (23 stone) with a staircase angle of 45° or less, and 123 kg (19.5 stone) with steeper stairs.
This stairlift is available as new, reconditioned or rental, making it the perfect option for any budget and circumstance including hospital discharges.
If you would like to learn more about this stairlift and whether it is suitable for your home, call us on 01249 814528. We also have this model available in our showroom which you can try it out in person! Book a showroom visit online.
Best Curved Stairlift
In order to achieve the title of best curved stairlift, we had to choose a model that is reliable as well as versatile. The best curved lift needed to suit a vast amount of homes and customers with unique requirements. This is why we have chosen the Platinum Ultimate as the best curved stairlift of 2021!
This lift has a unique forward-facing travel, making the chair suitable for narrow staircases. This chair is perfect for homes with obstructions near the staircase such as doorways, radiators or built in cupboards. This is because the Platinum Ultimate offers a 1st Step Riser as well as a Reduced Intrusion Finish, meaning the rail can start on the first step and/or finish alongside the last step. A combination of the Ultimate's low seat height and footplate allows for easy mounting and reduces tripping hazards. A Heavy Duty option is available for this lift, supporting weights up to 160kg (25 stone).
This lift is the perfect addition for a multitude of homes with curved stairs; it fits almost every staircase and is also suitable for those who wish to have their stairlift wrapped around the banister or landing to make wheelchair transitions easier, for example.
This stairlift is also available to try for yourself in our showroom! You can book a visit by clicking here or call us on 01249 814528.
Best New Product
Barduva RB150
The newest product at 1st Choice Stairlifts is the Barduva RB150, and has bagged the title of Best New Product of the Year! This is an open platform wheelchair lift that we installed for the first time in September was a joyous experience with the engineers.
Our engineers applauded this high tech yet engineer friendly product. It's an incredibly aesthetic lift that is available in a brushed stainless steel option. Our first clients to receive this product loved it, which we couldn't be more thrilled about. The Barduva RB150 is open platform model that is available as an external vertical lift as well as internal lift where there is a rise of up to 3 meters. This lift occupies very little space and is simple for all users.
This lift is suitable for domestic and commercial settings. If you would like to learn more about this product, please don't hesitate to call us on 01249 814528.
One We Will Miss
950 Straight Stairlifts
The 950 range of straight stairlifts by Handicare were brilliant products that were popular with our customers and our engineers. While we are sad to see this model go, Handicare has upgraded this lift to a newer model, named the 1100. The 1100 boasts all the best from the 950 and 950+ but has upgraded its rail from a rack and pinion track, to a slide track. This slide track is narrower, safer and easier to keep clean than the previous range.
The 950 and 950+ boasted simplicity with their easy to use technology, as well as their easy to clean upholstery. These lifts, much like our Handicare 1100, offered continuous charging, meaning it could be parked at any point on the rail without losing charge. Much like other lifts, they also offered manual and powered swivel options. Of course, we are sorry to no longer see new models of the 950 range, however it may still be available as a refurbished model at times. Handicare, like most stairlift brands, will continue to make parts for their old models from 5-7 years post discontinuation.
We display Handicare's 1100 model in our showroom, which is available to try in person. You can book a showroom visit by clicking here or by calling us on 01249 814528.
© 2010-2022 1st Choice Stairlifts. All rights reserved.