Stairlifts and Home Lifts in Oxford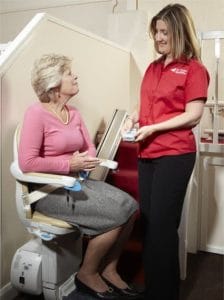 1st Choice Stairlifts is a local, family run business. We install high quality stairlifts, wheelchair lifts and home lifts throughout Oxfordshire at prices you can afford. We also provide maintainance and servicing. With 40 years of expertise, no wonder we're first choice!
We're a local company, dedicated to helping customers throughout Oxford to become independent in their own home again. We pride ourselves on providing the highest quality curved or straight stairlifts, wheelchair lifts and home lifts, as well as providing excellent customer service.
As an independent supplier, we only sell the highest quality straight and curved stairlifts, such as Flow 2, Platinum, Minivator, MediTek, Brooks, HomeGlide and HomeAdapt.
All our new mobility aids come with a 2 year warranty that covers callouts and parts, subject to our warranty conditions, giving you peace of mind.
"We knew that they were recommending the best solution for our problem. It's given us our life back." – Mr Sullivan, Marlborough
It doesn't have to be expensive. We also provide high quality reconditioned stairlifts. If you would like to discuss price options to suit your budget, call us for free today on 08000 19 22 10.
Just need one for a short time? We can quote for a rental stairlift for you with monthly price options to suit you.
For a FREE, no-obligation quote, call us now on 08000 19 22 10.
We also offer a range of 1Care stairlift maintenance contracts to keep you covered after your warranty period runs out. By becoming a 1Care customer, you can relax, safe in the knowledge that a team of local engineers are there to keep your stairlift, wheelchair or home lift in prime working condition. Because our company is local to Oxford, we can have an engineer out to you within hours.
"The positive way and speed he worked is an advertisement in itself, it was nice to meet him." – Mrs Edge, Calne
Booking a survey is simple. Call us on 08000 19 22 10 to speak to one of our friendly advisors. They will book a visit for you at your earliest convenience. Our surveys usually take between 30 minutes and 1 hour and there is no obligation to buy. Our surveyors are highly qualified advisors, so they are guaranteed to advise you on the best product to meet your needs.
If you would like to try one, or in fact several! We have a showroom at our headquarters in Calne, Wiltshire. There are 8 stairlifts for you to use as well as a wheelchair lift. This provides a great opportunity for our customers to try multiple models in one place.
You can get directions to our showroom in here.
If you live in Oxford and need a stairlift, wheelchair lift or home lift, or if you require maintenance and servicing, call us now to get a competitive quote by speaking to one of our friendly advisors.