What makes us a great company to do business with?
Our people who work hard to offer fantastic service to our customers.  Our staff are empowered and supported by our knowledgeable Directors and Management Team and our stairlift engineers are provided with the best resources and training, to make sure each customer job is done to the highest of standards.
We employ the services of a qualified Chartered Institute of Personnel Development Consultant to make sure that we employ only the very best staff.  After all our people represent us and our company and we employ people like us, who commit to and uphold our company values.
From your initial enquiry, through the installations process and looking after your lift around the clock, our close-knit team works together to strive to give you the best customer experience.
How our people will look after you
Your first point of contact with us might be to enquire about having a lift fitted.  You'll normally be greeted by Lindsey or Lucy.  Both very knowledgeable members of staff having both been employed by us for over 10 years.  They will look after you throughout your enquiry, quotation and order to ensure continuity of service until your lift is installed. On a Home Assessment Visit, it would usually be Colin or Kieran.  They will visit you to measure up and assess what product is going to be best for your needs.  And do you want to know what's great about these members of staff?  All our surveyors have been a stairlift engineer.  They are people who aren't "salesmen", but people who know all about the engineering of the product, how the product works, how it fits and how it will suit your needs and your home. When you place your order, our dedicated workshop engineer Phil will make sure your product is prepared ready for fitting, before it leaves our warehouse. Our team of stairlift engineers are Peter, Adam, Sam, Jamie, Mark and  Jordan.  One or two of our engineers will usually come to install your lift.  They will collect it from our workshop and drive to your home to install it for you.  All our engineers are employed directly by us (no subcontractors) and have our sign written vans and logoed workwear. They are also DBS checked (formerly the Criminal Records Bureau check) prior to being offered employment with us.  Our engineers are qualified to do the job and have many years of industry experience, which is kept up to date with refresher knowledge and training on the products and health and safety. After the installation the engineer will clean up after themselves and give you a comprehensive handover of the product, allowing you to test drive it and feel confident about using it before he leaves. We'll usually call you after the installation to check and see how you are getting on.  When you complete our customer satisfaction survey, Coral will review your comments and your feedback will be collated by Helen who helps support the office and with our ISO9001 quality compliance.  Supporting our team Clare deals with our Accounts and Credit control.  We also have Connie that is helping to look after our teams as a junior administrative support. Once your installation has taken place, Nicky will look after you.  She is dedicated to our Aftercare and will help you with any maintenance your lift may need including repairs, parts and servicing.  She co-ordinates all our engineer's work and servicing schedules.  We often allocate certain geographical areas to certain engineers, so don't be surprised if you may see the same engineer come and do follow up servicing or any necessary repairs.  Seeing the same person over again we understand can be comforting and helps to build better relationships with our customers.
So what makes our processes run so smoothly?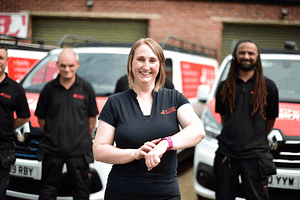 We've invested a lot of money in a fantastic Customer Relationship Management computer system that we've had made bespoke just for us.  A secure system that helps us to have visibility of all our customers and in just a few clicks we can access your records, your lift history and your automatic servicing schedule.  So when it comes to making sure your lift is regularly serviced and safety checked, you have total peace of mind that we'll be in contact to let you know when it is due.  It also means that when you speak to any of our staff, it will take us seconds to find your information and help you without any delay, around the clock, 365 days a year.
So what do our Directors do?
What our customers love most about Coral and Colin are that they are working Directors helping with the day to day running, although the team practically run it themselves! Colin mainly looks after the operations side and Coral on the more strategic business side.  Together we make a pretty good team – even though we do say so ourselves! Coral is responsible for all the marketing we do and all the posts on our social media channels and the information on our website which you are reading now.  Yes we could hire fancy marketing agencies to do this for us, but we believe in being authentic and that our customers should hear our words because you are choosing to buy from us, and with us that's personal.
Want to experience for yourself how fantastic our people are?
Give us a call on freephone 0800 019 22 10 for a friendly chat about our stair climbing solutions and maintenance of existing products too.
If you are on social media, why not check us out on 
Facebook
 or 
Twitter
 and interact with our community online. Want to know more about the service we give to our customers?  Take a look at 
Our Service To You page
. Did you miss why we started our business?  Find out on 
Our Company
 page.