As we begin to wind down for the holidays, putting up twinkling lights and writing cards for our loved ones, we often reflect on the last 365 days. Here at 1st Choice Stairlift, it's no different. We've taken stock of what we have achieved over the last year. Helping all of our customers, new and old. Of course, there are still a lot of people struggling through this pandemic. We're still trying to do everything we can to help those in need of assistance. Here is our End of Year Review.
For Our Community
Community Christmas Calne Food Donations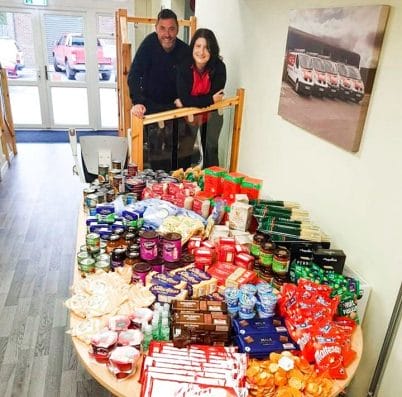 Throughout the lead up to Christmas, Community Christmas Calne have been taking donations to help the elderly, vulnerable and struggling families over the Christmas period. We wanted to do our bit to help the wonderful people in our local area, and therefore purchased some groceries to donate. With the generous contributions from the community, 303 hampers and 100 children's gifts were donated to struggling families across Calne.
Derry Hill Football Club Sponsored by 1st Choice Stairlifts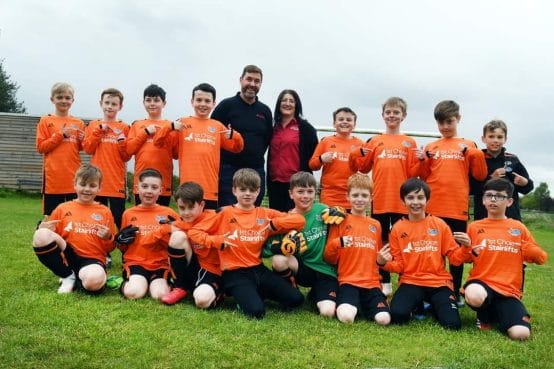 This year we sponsored our local football club, DHFC. Some of our staff have children who play for the team. We wanted to get involved and do our bit in the community for people who look after our children; and give them a healthy activity to take part in year round.
Stairlift Academy Seminar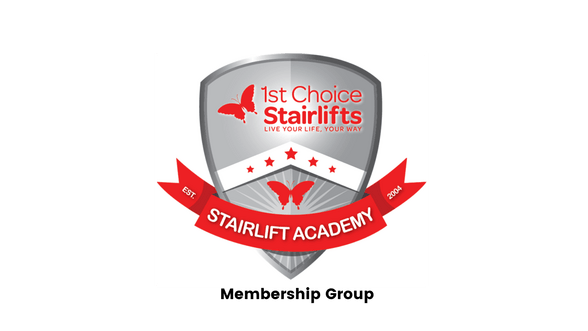 The Stairlift Academy Seminar has been running for over 17 years. It's designed for occupational therapists, OT assistants, grants officers and anyone who's involved in recommending stairlift equipment for their clients. We aim to offer an informative seminar with impartial information on how to find the best stairlifts for clients. In the midst of the pandemic, we decided to move the workshop online, making it accessible for all. It can be done in bitesize chunks to fit everyone's availability.
We also have an exclusive page, dedicated to sharing the latest details about our installations and best practices when deciding what lift is best for customers.
You can join this page by clicking here.
Customer Reviews 2021
As a local business, reviews are so important to us. A lot of our customers have been kind enough to take the time to leave us feedback from their experience.
There are a few ways in which we receive reviews from our customers, one of which is through a customer satisfaction survey, which is filled out and returned once an installation is complete.
Throughout 2021, all customers who returned a customer satisfaction rated us 4 Stars or above with 95% rating us 5 Stars. We are also a 5 Star Which? Trusted Trader, where reviews are from verified customers. If you would like to, you can leave us a review on Which? by clicking here. We also have reviews on Google where we would also really appreciate your feedback, which you can leave here.
New Unit at our Calne Office
This year we purchased our newest unit on Porte Marsh Industrial Estate. This has been fantastic not only for us but also for our customers. With this expansion it means that we can fit more lifts into our storage unit. The turnover from when customers get in touch with us, to the day their stairlift is installed has decreased overall. This is especially useful for hospital discharges, where we can complete installations as quickly as the next day. This allows our customers to get home and have full access to their house. We're now able to have an increased stock of straight stairlifts and through-floor home lifts. The storage of our curved lifts however, has not changed. Curved rails are made to measure and ordered specifically to fit each individual and unique staircase.
The Best Stairlift of The Year
We recently published an article for the best stairlifts of the year, according to our customers and engineers. We reviewed the best straight and curved stairlift and rated our newest products. Here we wanted to talk about our favourite overall product, which is the Platinum Ultimate! This stairlift is our most versatile product suiting a vast amount of homes and customers. It is a curved stairlift that would also be perfect for straight staircases. This particularly helps people who need their lift parked away from stairs, for wheelchair transfers for example. This lift also offers a First Step Start and a Reduced Intrusion Finish. Which is perfect for staircases with obstructions at the top or bottom of the stairs such as radiators, doorways or built in cupboards. If you're interested in learning more about this lift you can call us on 01249 814528, or even book a visit to our showroom to try our lifts in person!
Read our Best Stairlifts of the Year article!