Covid-19 Notice for Customers
(Updated 9th December 2021)
Open for Business and Supporting our Customers 
To our lovely customers (and customers-to-be)
Of course, we are still in an unprecedented situation with the Covid-19/Coronavirus Pandemic. We want to reassure you that we are here to look after you and support you whenever you need us.
We know that stairlifts are essential for many people to keep themselves safe and independent in their own homes.  The Government too have recognised this, that's why they have identified us as "Key Workers". This means we can continue to work to help and support you during any lockdown situation and throughout the pandemic.  We can also help with hospital discharges, making sure valuable NHS beds are freed up. This means that people can come home from hospital to a secure and independent setting and back into the home they love.
The safety of our customers and our colleagues is, of course, our top priority. We have taken every possible step to ensure the safety of everyone whilst we work.  Right from the start of the pandemic in March 2020 we changed our ways of working to protect everyone.
Due to Covid-19 still circulating wider in the community and case rates going up daily, the government has recently changed their guidelines. Since the beginning of the pandemic, we have taken every precaution to ensure the highest level of safety for our customers and staff. We will continue to work in this way and will change our workplace guidelines according to any announced changes.
A core value of our business is to be open and honest with our customers. Therefore, we want to reassure you about all the measures we have put in place at 1st Choice Stairlifts:
Customer Service 
Our staff are currently working in the office. Our desks are still spaced out and socially distanced.  We continue to wear masks when we leave the office to move around the building in order to keep everyone safe.
When you need us, you can call our office on 01249 814528 and we will be there for you.  You can also want to use the webchat facility on our website. You can also use Facebook Messenger or email our departments directly on:
Sales:  [email protected]
Orders:  [email protected]
Aftercare – routine repairs, servicing, parts: [email protected]
Our Customer Service Team operates Monday to Friday 8.30 am to 5 pm, however, you can still reach us out of these hours for urgent sales calls and breakdowns.
Our Showroom
If you have any queries about our products or buying a stairlift, we will give you help and expert advice over the telephone.  However, if you are still unsure and would like to try one out for yourself we do have a showroom.
Our showroom is open for demonstrations with the following measures in place:
You will need to call us or visit our website to book an appointment, that way we can ensure there is a member of staff free to help you and we will only have one customer (and their family/carers) in at a time.
We will be wearing masks and we would like you to wear one too, unless you have disability exemption that prevents you from wearing one.
On the day of your visit, if you or any of your household have any Covid-19 symptoms (cough, loss of taste or smell or a high temperature), are feeling unwell, have been asked to self-isolate or have been in contact with someone who has tested positive, then please call us so we can reschedule your visit.
We have restricted access into our building so when you arrive please ring the doorbell and we will come downstairs and unlock the door to let you in.
On entering you will be asked to sanitise your hands and check in with the NHS App if you have it.
We will continue with social distancing.
We will open the windows in the showroom to aid ventilation and reduce transmission.
The showroom and all of our products are cleaned regularly to the highest of standards ready for your visit.  We will sanitise our hands and sanitise the products before you use them.
As we'll still be wearing masks you won't see our friendly smiles, but we would love to see you in our showroom. We are very happy to help you choose the best model for your stairs.  You can call our sales team to book your visit on 0800 019 22 10.
Sales, Installation and Maintenance of Lifts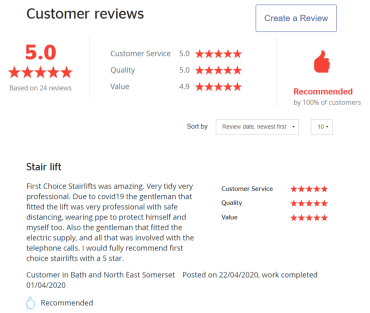 We provide our full range of services including quoting for new installations, fitting products for customers, repairing, servicing and removing products.
When we do come and visit you, we will continue with our safe working practices to protect you and our team.  All our staff have been double vaccinated (and some are boosted). This is thought to reduce levels of transmission, but nevertheless, we will continue with our safety measures.
Our staff won't come to work if they feel unwell, are displaying Covid-19 symptoms or have been asked to self-isolate.
Equally if you are feeling unwell, have symptoms or have been asked to self isolate or been in contact with someone who has tested positive then please call us to reschedule your appointment.
We will continue with social distancing wherever possible.
We will sanitise our hands before coming into your home, after we leave and probably during our visit too.
We will wipe all surfaces we need to touch before and after we have touched them.
We will continue to wear masks.
We may leave your door open to aid ventilation and reduce transmission whilst we are working on your lift.
We hope that you find this reassuring, however, if you do have any concerns or questions, however big or small, we will be very happy to answer them for you – just call our friendly team on 0800 019 22 10.
With our very best wishes
Coral & Colin
Managing Directors
Why not keep up to date with us on Facebook and like our page here and check out our latest Which Trusted Traders Reviews here